Cenay Nailor
The Go To Gal For The How To Stuff
Yep, I'm a geek. A techno-nerd of the geek variety with her nose stuck to a computer monitor almost every where I go. Well, except when I am out riding quad's or motorcycles. But that's only because I get motion sickness trying to read the screen while bouncing down the trail.
Nope. Not kidding.
Custom Software Developer
This was my title until I was bitten by the Internet Marketing bug back in 2006. At a time when most of the custom programming work started moving overseas to less expensive contractors, I took a year off to teach myself a new skill set.
I knew that to continue working from home, something had to change. While exploring web technologies and web design, I came across Mike Filsame, Perry Marshall, Brad Callen and a few others. They were doing something I hadn't considered before.
And I liked it.
Needless to say, this shifted my focus somewhat. I started down the path of Internet Marketing in 2007 and have never looked back. The more I learned, the more I wanted to know. As I became fluent in web technologies, folks I meet online began asking more questions.
A Diva Was Born
Okay, perhaps not born so much as unleased. I discovered I had a real passion for figuring things out, and them making them easy to understand. And I absolutely loved making videos that explained a concept or process in clear and easy to follow language.
I started putting my videos online to help *would be* Internet Marketers understand a concept or process. Although my videos have helped thousands, a select few wanted more. They wanted one on one coaching about how to succeed. They wanted to be taken by the hand and shown the next step. They wanted to do it themselves, but didn't know where to start.
A Service Was Born
With a couple of cool pieces of technology, I am able to connect to my client's machine, and watch as they walk me through their current technology hurdle. They are able to watch as I show them how to overcome it. I believe in the "See One, Do One, Teach One" method of learning. You will watch me do it. Then I will watch you do it (correcting as needed), and then you will show me you can do it all by yourself (though I am there for questions if you need).
I also can be used as a Outsourcer for WordPress blogs, capture pages, video creation, graphics and banners and so much more. I love the creation process. Don't want to learn it yourself? No problem. Just let me know what you want, and we can customize a solution that works for you.
Some Samples Of My Work
I subscribe to the belief that a picture is worth a thousand words, and God knows you don't have time to read a thousand words. You are looking for a solution. These are the most recent of the blogs I have tweaked, installed or customized. The brief description doesn't really fully explain what all was done, but each site was exactly what the client asked for.
Please note, you can click on any thumbnail image of the sample, and have it enlarge. Once enlarged, you can scrolled through all the images by clicking on the large image LEFT SIDE to scroll backwards, or RIGHT SIDE to scroll forward. You may also click the link for each, and visit the actual live site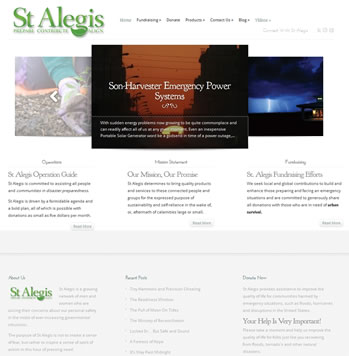 St Alegis
Entrepreneur and community activitivist Kathleen Hedlund contacted me about creating a new look for her non-profit site and getting a little one on one coaching for how to get it found. We started with a new theme from Elegant and customized it to exactly match her goals.
Theme: Elegant Themes : Modest
Customizations: Custom images for header and featured content, removal of certain elements and setup featured content pages to really highlight their message. Edits to theme to allow editing posts and pages without the need to go to the dashboard first, edits to the CSS to change fonts and colors, custom CSS revisions to personalize the look and feel.
Visit the live site St Alegis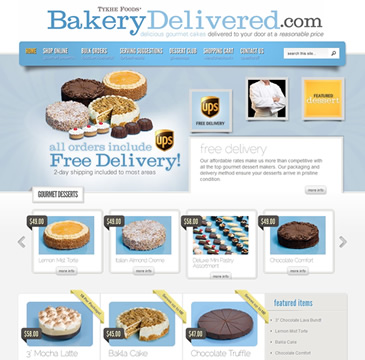 Bakery Delivered
Cake makers David and Sam wanted a site to wow their visitors and show off their beautiful gourmet cakes, pastries and desserts, while still retaining the features and ease of maintenance of a blog. We selected an Elegant Theme and modified to match their specific goals. This crisp and clean design was an immediate hit.
Theme: Elegant Themes : eStore
Customizations: Custom image for headers and featured products, and changes to the navigation menu, tabbed areas, edits to the CSS to change fonts and colors. Merged with the eShop plugin to make this a live eCommerce site.
Visit the live site Bakery Delivered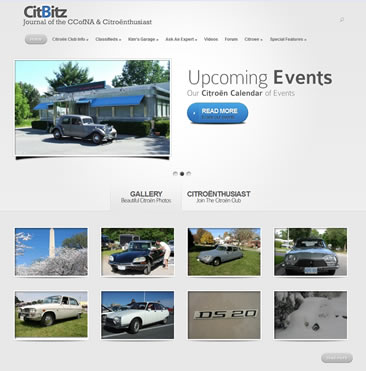 Cit Bitz Car Club
Car enthusiuast Denis Foley and his partner Carol Hansen were looking for a fresh new look and feel for their Citroen Car Club site. They choose a beautiful clean design and set about changing over their Revolution Theme to the Elegant Theme Nova.
Inserting thumbnail images and a few minor tweaks proved that an organized blog can be transformed quickly.
Theme: Elegant Themes : Nova
Customizations: Custom image for headers and featured products, edits to the CSS to change fonts and colors. Custom navigation menus added and new CSS rules created to allow customizations on page content.
Visit the live site CitBitz

Ready To Get Started?
Want me to give you a quote based on your current theme, customizations needed? Then drop me a line. Please be sure to include your current web address, theme of choice and a brief overview of the changes you want to make. Or, you can get started right away by selecting one of the pre-built theme customization options.
What My Customers Have To Say
"…We now get consistent subscribers and visitors.."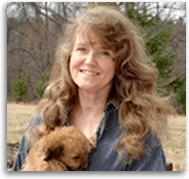 If you want a great looking, SEO blog that will get PR fast get a hold of Cenay. We have over 50 sites and growing and the ones that get consistent subscribers and visits are the ones we've had Cenay tweak or work with us on. She has all the answers about blogging and plugins. She'll make it happen.
Carol Hansen
www.CitBitz.com
"What a great help and Mentor…"

What a great help and Mentor Cenay has been for me and many others. If you want true help and a person that knows there stuff….your at the right place!
A TOP Professional Internet – Savvy thinker, designer, builder and helper.
I highly recommend her as an online- marketing technician.
Sincerely yours,
Thomas Chandler
What, do DON'T have one?
I love technology, teaching and helping others succeed. What can I do for you today?

http://www.CenayNailor.com
P.S. Did I mention … I am a geek … and kinda proud of it.
---
About This Diva
Cenay Nailor is an Online Marketing & Blogging Coach with mad technical skills she loves sharing with Videos and How To Articles. Naturally, she loves connecting with other online marketers and potential Divas. Feel free to contact her for help with your projects.